Victoria is full of great activities to try for backpackers:
Backpacking in Melbourne
Heading into Australia's second largest city with your trusty backpack, a world of adventure awaits you. From friendly hostels to a vibrant nightlife, the city of Melbourne has something to see for everyone, and plenty to do on even the tightest of budgets. Below is a brief guide to how anyone can enjoy backpacking in Melbourne:
Melbourne Visitor Centre
Located in Federal Square (2 Swanston Street), the city's official Visitor Centre is a great place to drop in and get helpful information, free maps, and listings of all the current events, concerts, and performances. It's also a great place to pick up a souvenir or two. Definitely make your first stop the Melbourne Visitor Centre!
If you get turned around, don't hesitate to call them at 03 9658 9658 for help and directions.
Where to Stay
If you're looking for a great place to bunk for the night without spending a fortune, below are some of the hippest hostels in Melbourne:
Space Hotel – Starting at only 19 euros a night, Space Hotel is an amazingly luxurious friendly place to crash for a low price. Located right right in the heart of Melbourne on Lygon Street, you'll be in the CBD in minutes on foot. Private and shared dorm rooms available.
Urban Centre Backpackers Hostel – The name says it all, with shared rooms starting at around 16 euros per night. All accommodations come with free tea, coffee, linen, and even a fresh, clean towel. Located on City Road directly across from McDonald's.
Discovery Hostel – Located in a quiet part of town at 167 Franklin Street, but just minutes from the famous CBD district, the Discovery is a great place to drop your backpack and explore the city for a few days. Rooms start at around 16 euros a night, with mixed dorm and private rooms available.
Museums and Galleries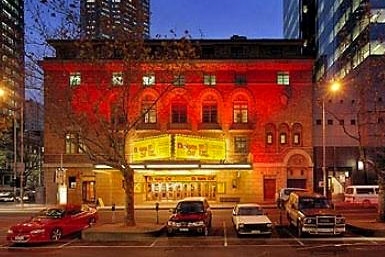 If you want to laugh away your troubles, don't miss the Comedy Theatre located at 240 Exhibition Street. First built in 1928, this popular entertainment venue regularly hosts plays and stand-up performances.
Few visitors will forget a trip to the Sidney Myer Music Bowl, one of the greatest venues in Australia for outdoor entertainment. Located in Kings Domain near the Government House Reserve, the Music Bowl regularly puts on concerts and shows from some of the top names in music.
Probably your best place to start for enjoying a night on the town in Melbourne is the CBD (Central Business District). During the day, brokers in power suits direct the finances of the country, but at night it's where all the action is. If you're feeling thirsty, or are in the mood to dance, check out some of these excellent establishments:
The Joint Backpackers Bar – Known locally as "The Joint", you can't miss this hopping bar slash disco on 35 Elizabeth Street in the CBD. Downstairs, you can sip a drink and talk at the well-appointed bar, while upstairs you'll find everything from pool tables to video games.
Paris Cat Jazz Club – If you're looking to swing, no place in Melbourne is finer than the Paris Cat Jazz Club, located at 6 Goldie Place in the CBD. An intimate and cozy setting, with amazing decor and fabulous music.
Khokalat Bar – If RnB and hip hop are more to your taste, don't miss the Khokolat (pronounced "Chocolate") Bar at 43 Hardware Lane in the CBD. With plenty of drinks and lots of bumping music, you're guaranteed to get your groove on.
Cloud Nine – One of the hottest night venues in Melbourne, Cloud Nine at 60 King Street is in the heart of the CBD. Sip on a fine drink upstairs or head down to the basement to dance until dawn.